longer version
2013 finds me in my first home with two adorable little ones under foot, so we are decorating, crafting, preschooling and creating adventures... all on a tight budget. My husband is the handsome and charming schoolteacher we all loved as children, but his dream job doesn't come with a dream salary package (at least not yet!), so we are pinching our pennies as we build the good life in our modest home. My house will never look like a magazine, but I can make it a home where we love to live!
At a very young age, I learned the phrase "I can make that!" and I have been picking up DIY projects (and hoarding supplies) ever since. I dabble in most anything creative, including sewing, graphic/web design and now, with my new splurge-of-the-century (for me) camera (and a thanks to my generous husband and in-laws), a little photography. I'm a so-so cook, a fair-weather runner, and also a
Mormon
(but not in a so-so or fair-weather way :).
crazy version
I love new socks, whether they are fun or just plain white. I am an unapologetic font-aholic, approaching 1000 fonts loaded on my computer. My college roommate, Debra, is now both my best blogging buddy AND my real-life best friend. I was once both a rocket scientist and a mathlete (oh junior high!) and had a short-lived dream of being an engineer architect. Instead, I got my degree in English to be a technical writer who gets to help those people put together a coherent sentence. I love dreaming of DIYing my own furniture but I'm terrified of power tools. I've never broken a bone. The only class I've ever failed (or even gotten less than an A, yesIamTHATgirl) was in swimming lessons when I was 7. I still can't swim to save my life. Half of my craft closet is full of tshirts and jeans waiting to be made into quilts like
this
and
this
. Most of them have been waiting 6+ years, but I'm saying that 2013 is THE year. I am huge wimp and shows that no one else finds scary will keep me up at night for weeks... but that doesn't stop me from watching Doctor Who during naptime. Oh, and I totally stole, er, borrowed, this about page idea from
Char at Crap I've Made
. :)
past series I've done
From 2010 to 2012, I was a weekly contributor over at Housewife Eclectic, where I wrote
Wednesdays on the Web
, sharing tips and awesomeness about web technology.
You can see all the posts that I wrote here.
(The series is still going under the excellent care of Debra's husband, Seth, who knows pretty much everything and does the social media thing for a living, so you should definitely
head over there to check it out
.)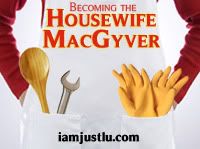 In 2011, I took on a year-long quest to become a Housewife MacGyver in every area of my home and life -- using my resources more wisely. I learned some amazing things and had some fantastic guests! Learn more about the quest and read all of the posts here.
Learn more about the quest and read all of the posts here.