Welcome to the home of Housewife MacGyver, a year-long journey to become more self-reliant through wise use of resources.
I am Lorene, or Lu, and I'm your host on this crazy adventure! Feel free to contact me at iamjustlu at gmail dot com with questions, suggestions, or anything else.
Why "self-reliance through wise use of resources"?
Because I think we could all do a little bit more for ourselves, without relying on others to do it for us. I know I certainly have plenty of room to improve! No man (or housewife) is an island, nor should we be, but if we can use what we have to address our needs without having to run to the store or call someone (even Mom!), we're that much better off, right?
The longer I am a wife and mother, the more I realize that there are so many things I just don't know -- I feel silly asking someone and end up just Googling it. Some things you learn with time and as circumstances require, but there are some basic things I feel like I've missed the boat on and other areas where I know I need to improve. So, between now and the end of 2011 and with a LOT of help from some fantastic guest bloggers, I hope to fill in some of these areas in my home and in yours.
Why MacGyver?
To me, this is who
MacGyver
is -- the man who is only one man but who can do anything because he's smart about using the resources available to him.
Wouldn't it be amazing if we could each be more like that, not in high-risk situations like defusing a bomb or stopping a smuggling ring, but in our everyday lives as part of the "high-risk" work that we do as wives, mothers, and women?
I know: WARNING, 80's obsessed extremist ahead! While I do love my MacGyver, I'd like to think I'm still firmly rooted in reality. This series won't cover topics such as defusing bombs or even living off nothing in the wilderness. Instead, I've chosen topics that will (hopefully) enrich each of us in our normal lives, help us to do the things we do a little bit better. Throughout 2011, guest bloggers and I will share information about becoming more self-reliant
financially (March)
domestically (April)
physically (May)
in the kitchen (June)
around the house (July)
academically (August)
in the car (September)
spiritually (October)
emotionally (November)
I want to be a MacGyver Housewife!
Excellent! I'm so pleased to have you along on our journey. Feel free to grab the button below and tell everyone you're joining up! And, if you (or someone you know) would love to contribute, just contact me at iamjustlu at gmail dot com. Don't feel like you have to be an expert -- we're all still learning and we can all learn from each other!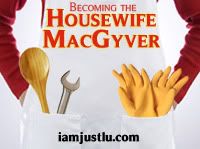 HOUSEWIFE MACGYVER ARCHIVES
JANUARY
: The first MacGyver commandment,
commit thyself
FEBRUARY
: The second MacGyver commandment,
organize thyself
MARCH
: Becoming the Housewife MacGyver
financially
APRIL
: Becoming the Housewife MacGyver
domestically
SEPTEMBER
: Becoming the Housewife MacGyver
in the car